Notion Templates for a successful and healthy 2023!
Whether you're looking to take control of your health, stay organized, or achieve your goals, Notion templates are a powerful tool to help you get there. These templates are easy to use and provide a framework to track your progress and help you stay motivated. In this article, we'll introduce you to four amazing Notion templates that will help you lead a healthier, more productive, and fulfilling life. 💪🏻
From tracking your medical history to managing your tasks efficiently, these templates offer a range of features to meet your needs. So, if you're ready to take the first step towards a healthier and happier life, let's dive in and discover how Notion templates can transform your life!
Let's get started!
1. GTD Dashboard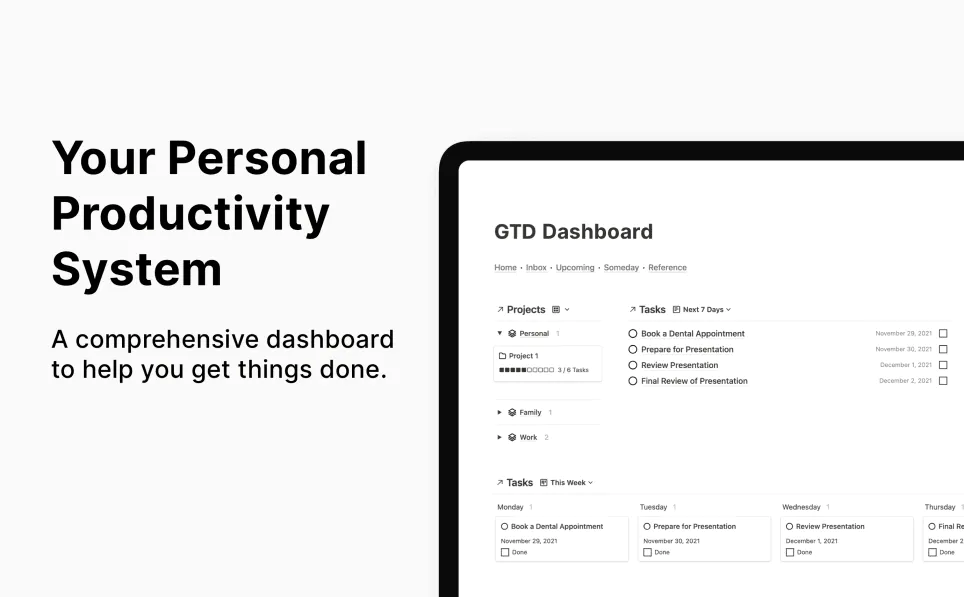 Do you often find yourself struggling to keep up with deadlines and feeling overwhelmed by your never-ending to-do list 📝? With the mantra "Time is money" ⏰ becoming more relevant than ever, it's crucial to manage your time efficiently. This template is designed to help you plan your day, week, or month in advance, so you can stay on top of your tasks and achieve your goals without feeling burnt out. 🤩
What's inside this template?
Inbox page
Project areas
Someday list
Rollover tasks
Calendar scheduling
Recurring tasks
Weekly/ monthly board view
Sort by priority, context and projects
Get notion template.
2. Meal Planner & Calories Counter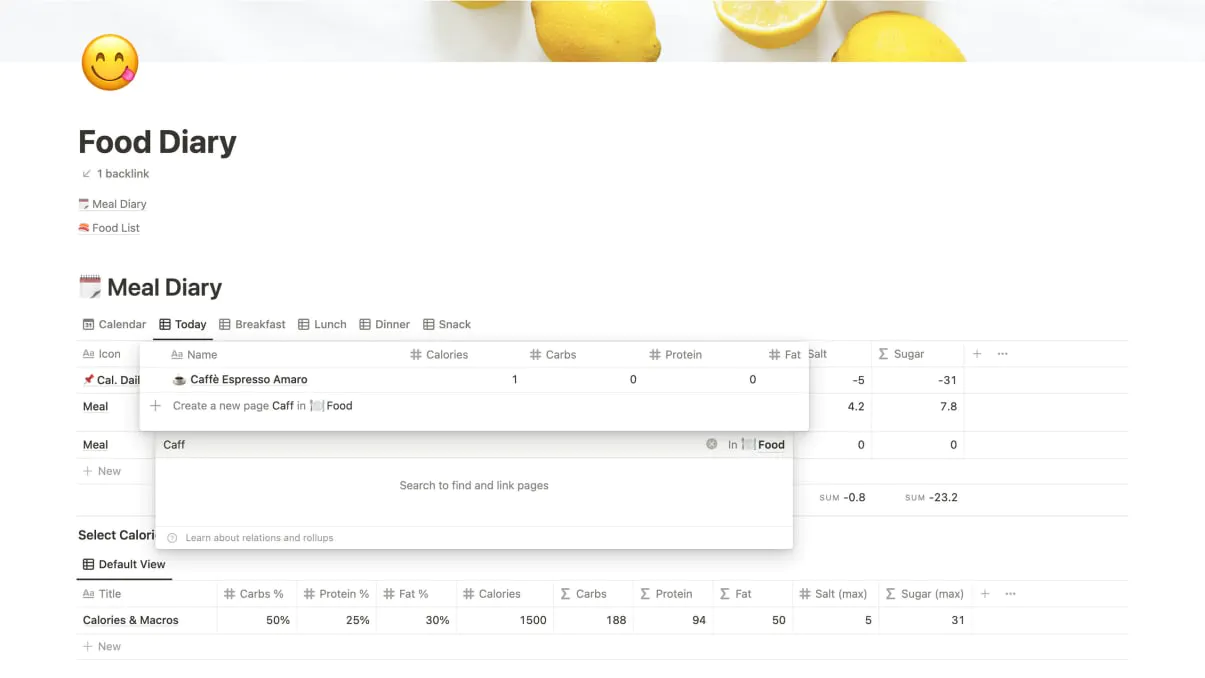 Want to start eating healthier? 🥗 Eating healthy is a vital part of a healthy lifestyle, and this template makes it easier than ever to plan and track your meal 🎯. By eating nutritious meals, you can reduce the strain on your digestive system and feel better overall. With this template, you can easily track what you're eating for the day, along with calorie content and nutritional information. 📄
What are the benefits of the template?
A clear view of what you eat every day and how balanced is your diet
Save time ⏳
Have a better overview of all your recipes and calories .
Get notion template.
3. Active - Workout Tracker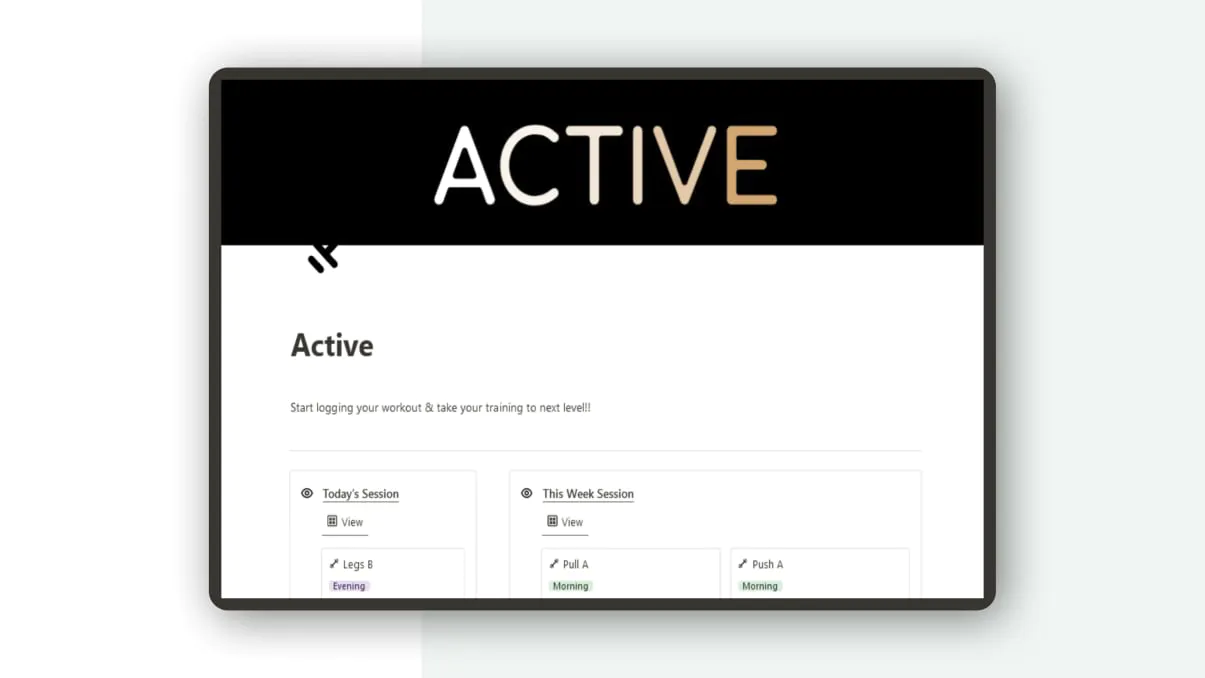 Whether you're a fitness enthusiast or just starting your fitness journey, this template is the perfect tool to help you plan and track your workouts 💪🏻. With over 400 pre-filled exercises to choose from, you'll have endless options to create a workout plan 📝 that fits your needs. Plus, you can easily create your own exercises and add them to your plan. ✅
What's inside this template?
A complete list of pre-filled exercises
Gallery & Calendar view to stay on top of your training schedule.
Today's & Weekly sessions to get an overall view
Workout Templates
A user guide to help you get started with Active
Resources related to workout/fitness
Tracker for your body measurements (weight, chest, biceps, etc.) throughout the months and see how you improved
Pay one time & get lifetime access/updates
Get notion template.
4. Health Planner Dashboard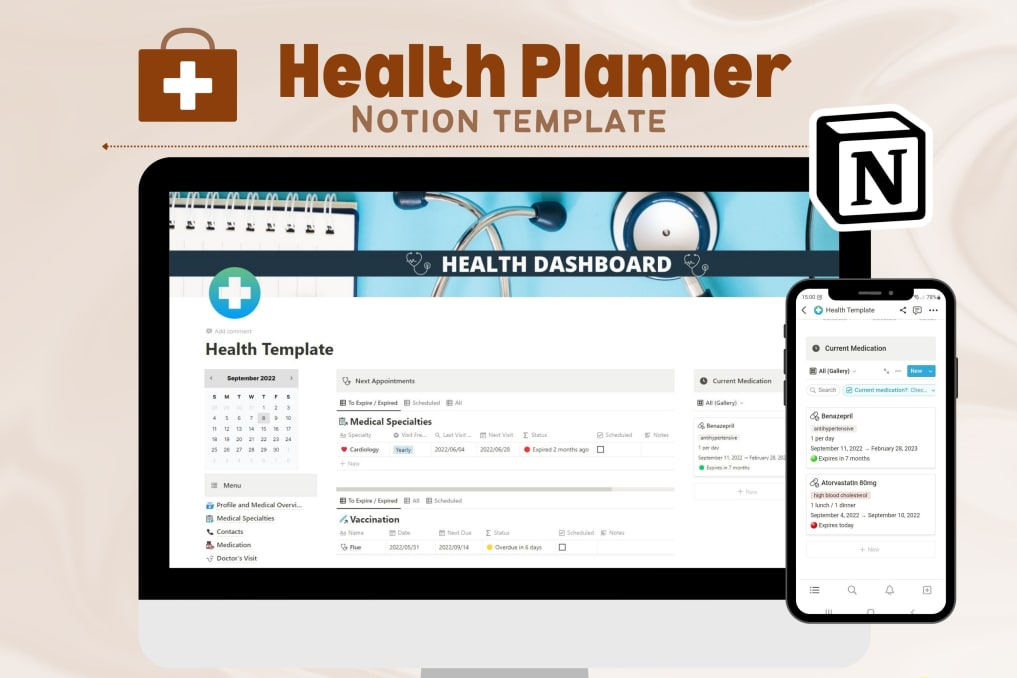 Introducing Health Planner Dashboard to keep track of your health in 2023! This comprehensive template includes everything you need to stay on top of your medical history, including past procedures, upcoming appointments, medication tracking, and doctor's visits. ⚡
What are the benefits of the template?
📅 Plan your doctor visits and frequency
👨‍⚕️ Record everything related to a given appointment
💰 Track your spending
✅ Track your blood pressure, glucose and sleeping hours
🩸 Track all your medical tests and attach the results
💊 Make an inventory of your medication and check expiration dates
⚕️ Have a one page sheet with all your medical profile always at hand
📱 Compatible on desktop, tablet, mobile
Get notion template.
---
Conclusion
Notion is a free tool but it can do much more than you can imagine! This article was just a glance at what you can achieve if you use Notion the right way. ✅
All the above mentioned templates will help you complete the transformation you need this coming year! So, stop waiting for excuses & start making progress! 📈 Transform your health & life with notion templates.
I hope this article was helpful and you enjoyed reading. Give us some feedback on our 🐦 Twitter account and follow us for regular updates, template launches & discounts/deals on Notion templates!
If you have some of your own tips or helpful information that you want to share with other Notion users, you can helpful articles like this one for us! Reach us via help@prototion.com