Top 10 Notion Templates for Startups and Enterprises
The past few decades have been all about the emergence of successful and innovative startups, paving the way for thousands more to follow. But let's be honest - not every startup is successful because it has an innovative idea. The process that a startup follows is by far the biggest reason it ever becomes a profit-generating company.
So, how can you set up dynamic, quick, and cost-efficient processes for your team to follow?
The answer is Notion, a productivity tool that streamlines your processes and makes collaboration easier. You can use it for everything from creating a basic Employee Directory to building an entire customer relationship management (CRM) database, without using a single line of code.
Although Notion systems for work and business are a big hit, constructing them from scratch can be very time-consuming. Notion templates not only help you save time but also give you access to tried-and-tested systems already being used by hundreds of enterprises worldwide. To get you started, here are the top 10 Notion templates that can help your company achieve better management and a streamlined workflow.
If you are a company that's constantly working on new products, this template could be exactly what you need to make your product launches successful and streamlined. Product Launch Kit that helps you describe the product and set goals for its launch, ultimately keeping your team organized at every step. You can also track success by measuring key metrics. It has an entire section dedicated for you to the define the strategy, budget, and promotion channels.
The Product Launch Kit template contains instructions as tiny notes, to help you use the kit to the fullest. It has a fun and energetic theme so that no launch ever feels dull to you or your team.
Employees in better mental health can work more positively and enthusiastically. This Notion template helps them check-in with their feelings from time to time and become more aware of their well-being at office. For high-pressure environments, this template can help predict a work-related burnout, providing a gentle reminder to just take a break.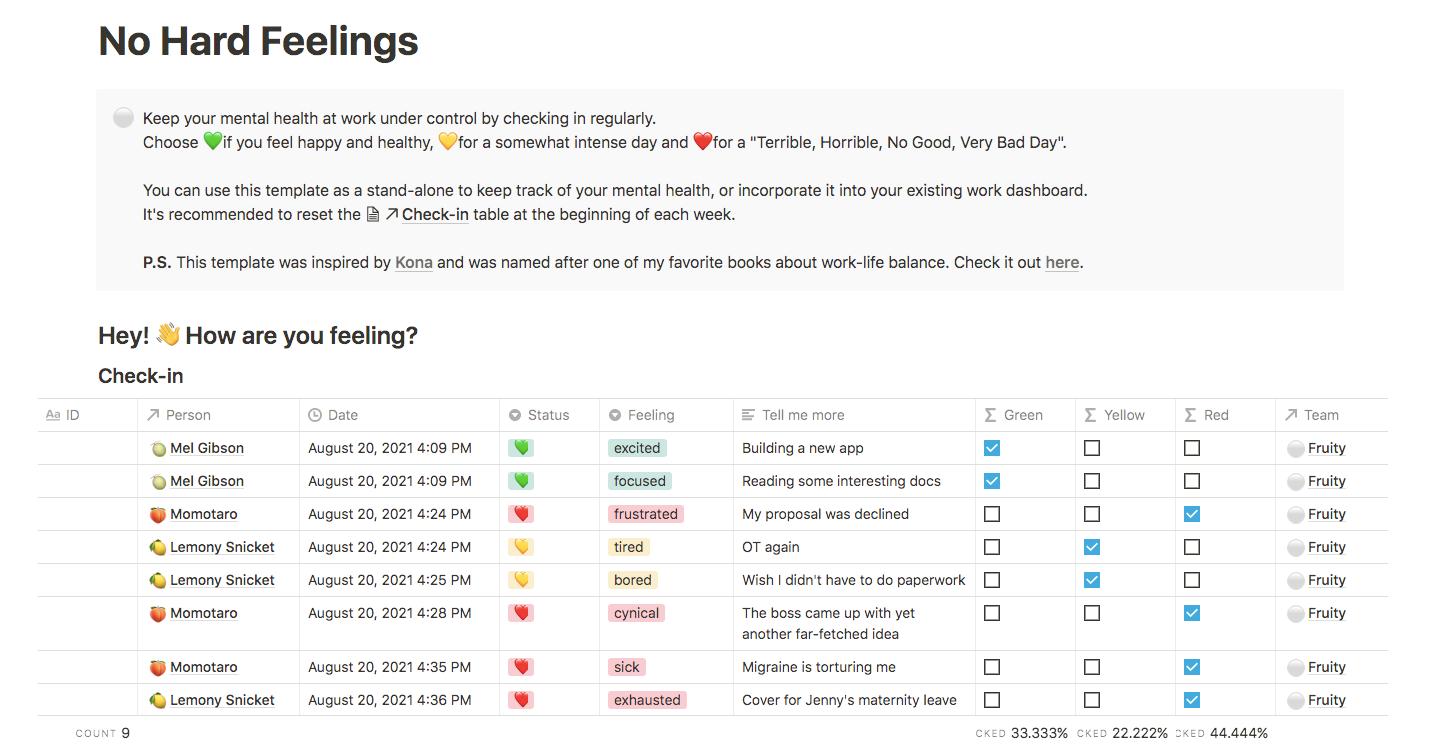 The best part about this template is that it is free to download and use, which means you can ask every employee to track their mental health at no cost!
Using Enterprise OS, you can set up and customize workflows for just about anything and help your team succeed while saving business hours daily. You can use it for Project Management, Team Collaboration, Accounting, Inventory Management, Social Media Publications, and for building Knowledge Banks to centralize all your data & see connections.
Using this Notion dashboard, you can store your Company's Goals, Buyer Personas, and Customer Journey Maps in one place. It is a reliable option for small businesses who just need to pay once (at the time of purchase only) and still be able to build unlimited customer maps.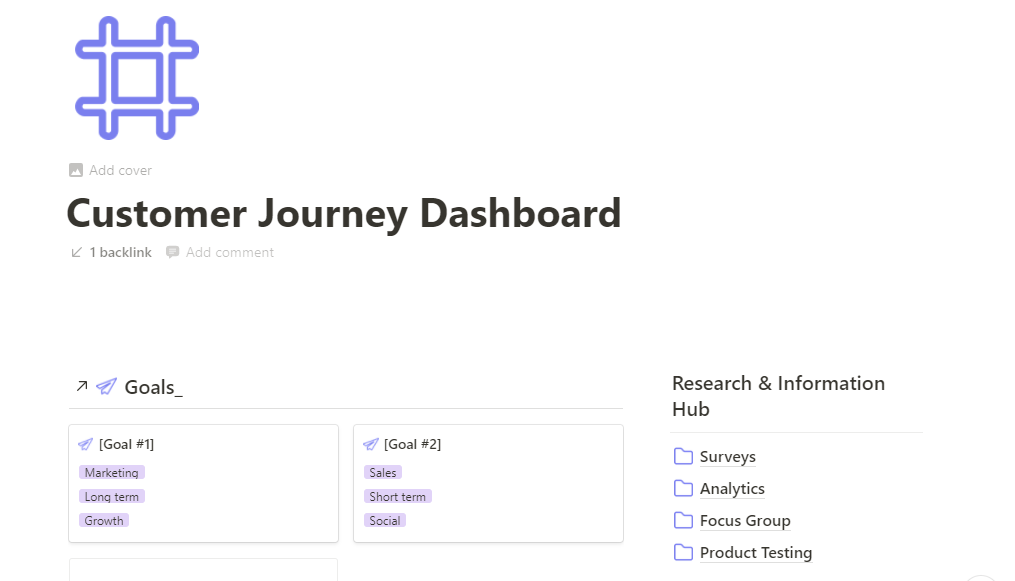 Priced at only $12, this template is definitely worth a try. It comes with 30 curated resources to help you understand and connect better with your customers.  
This Notion template is designed particularly for startups. You can use this to describe the vision of your company, talk about the values, define goals, make employee management easy, and even keep track of what your customers are saying about your company on social media.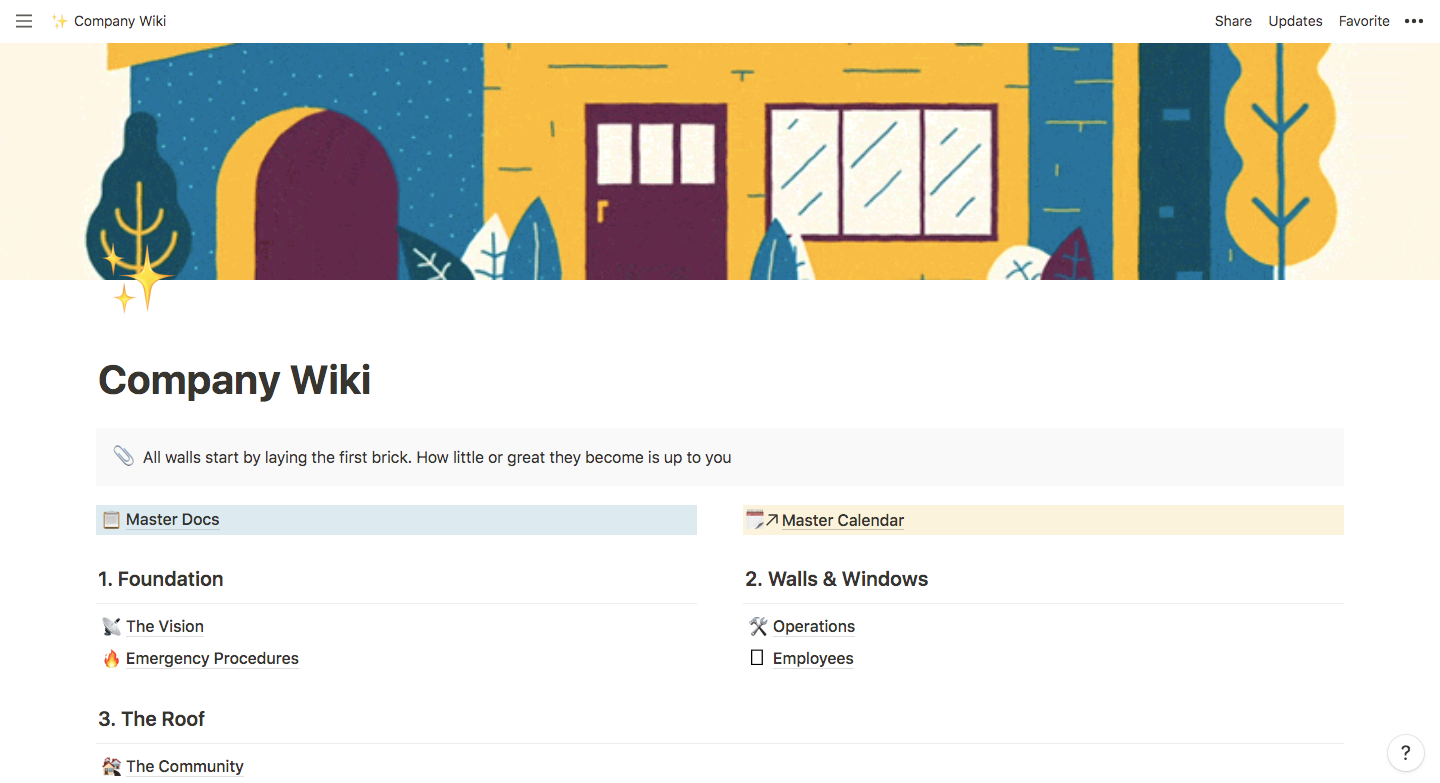 This template is a workspace for product and tech teams ranging between 3 to 75 people. It can help you replace expensive tools like Jira, Trello, and ProductBoard. Sprints and backlogs can be managed easily with Product OS and for better team management you get access to a Team Homepage too. If you believe in the OKR methodology and want some extra guides on managing a team, this Notion system gives you all this in one package.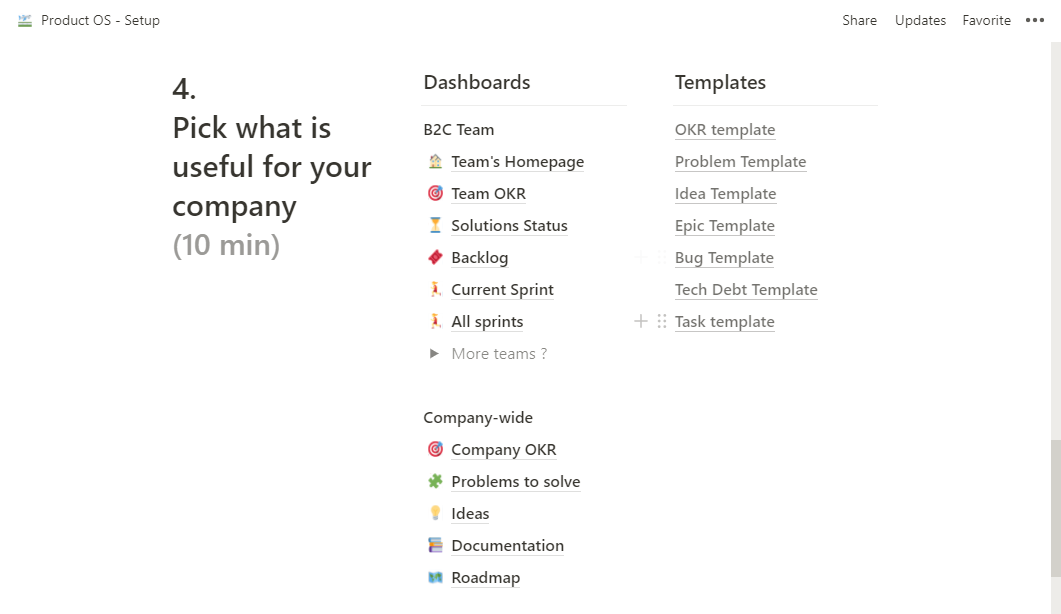 This Notion Template is everything you need to successfully raise funds for your startup. It includes a Fundraising Guide to help you get started, an Investor CRM to track who all you've reached out to and what stage is the conversation at, a Due Diligence Checklist to make sure you've done your research, and even a Pitch Deck Feedback Template.
Some other templates included within the Startup Fundraising Template include an FAQ Template, a Pitch Deck Builder, an Investor Update Template, and an Investment Memo Template. The Resources List that has 50+ resources to get you started with fundraising, is an absolute bonus!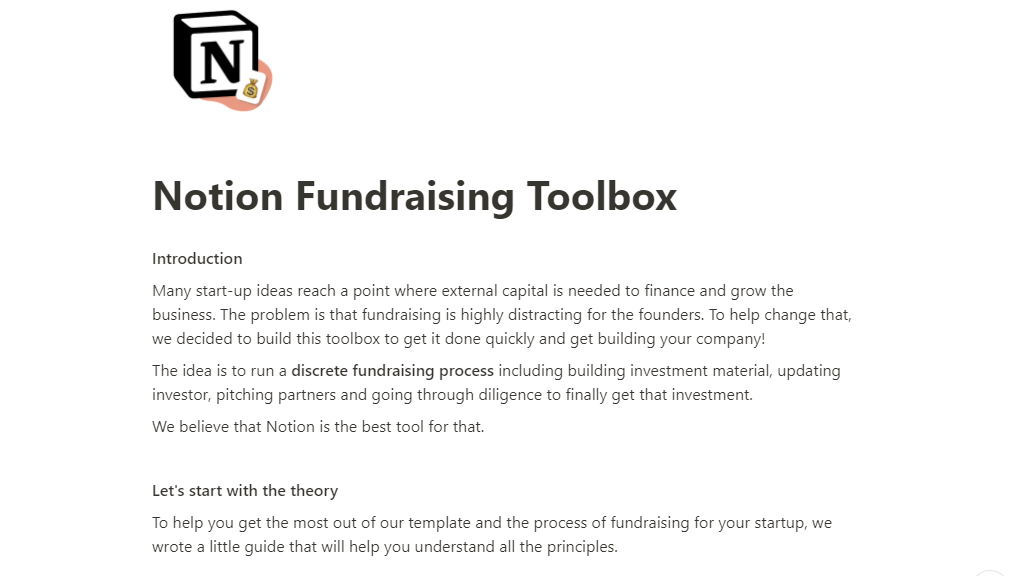 Contractors, freelancers, project managers, or product owners who build or manage E-Commerce stores in Shopify, Magento, WooCommerce, WordPress or BigCommerce, can greatly benefit from this Notion template. It contains numerous pre-built templates to that serve as a project management workspace.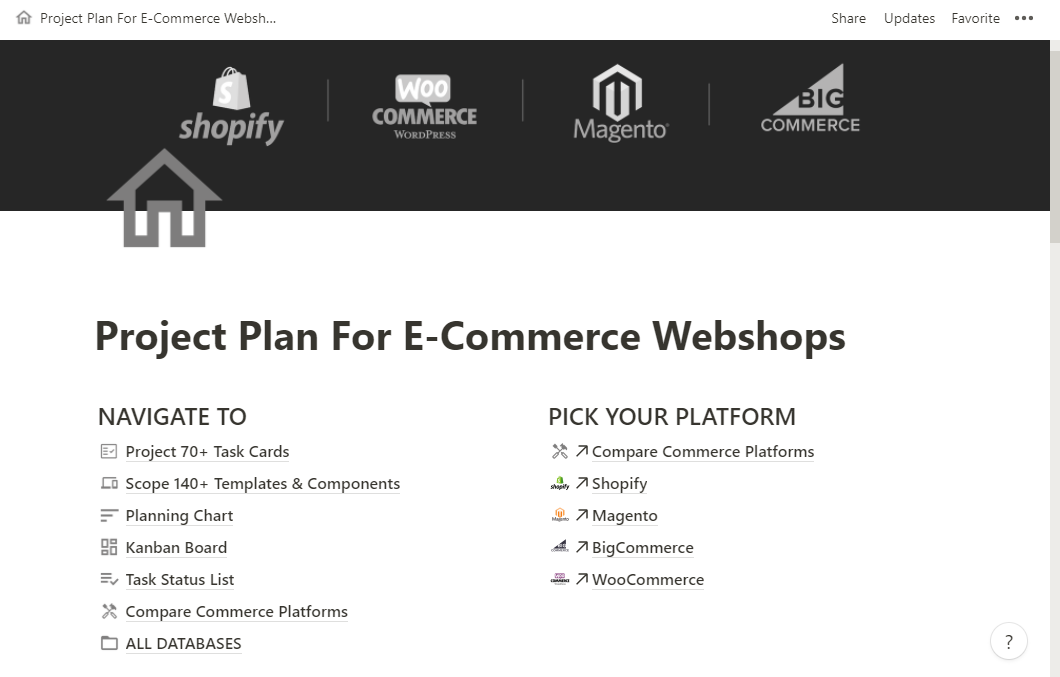 Another superb feature is "Status Sheets" for team members from back-end developers to product owners and media specialists. To top it all up, you also get access to one Gantt Chart for managing all tasks in one view.
This Notion template gives you a dashboard where you can plan your content - all in one space. If you work with more than one social media channel at a time, this can save you hours of time. You can further create individual pages dedicated to each channel using the planner provided. To help you be more focused about growing your platforms' audience, you even get a Monthly Goal Tracker for constant reality-checks. Most content creators go crazy over aesthetics and if you're one of them too, you'll be happy with this template because it is a feast for the eyes!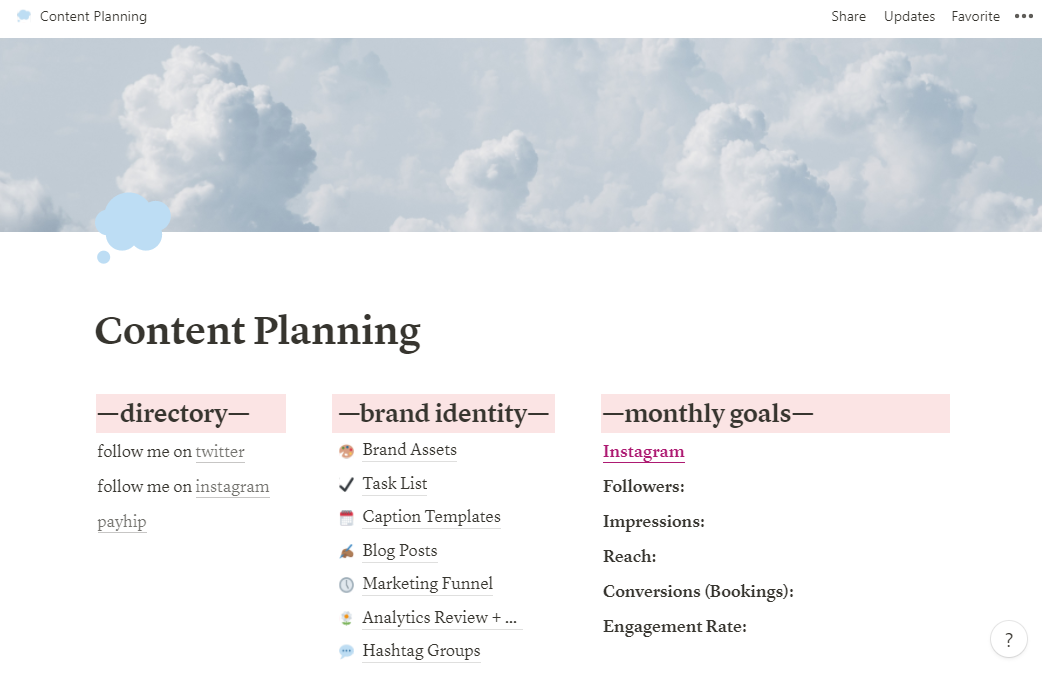 This Notion system is the holy-grail for marketing departments and media agencies. You can manage and deliver multiple campaigns with efficiency, thanks to the Strategic Roadmap template and Briefings templates for YouTube, websites, AdWords, influencers etc. included within this pack. You also get access to a Campaign Calendar Overview template and a Scrumboard for all your digital assets. You can color-code your marketing activities and even generate customer lifecycle strategies!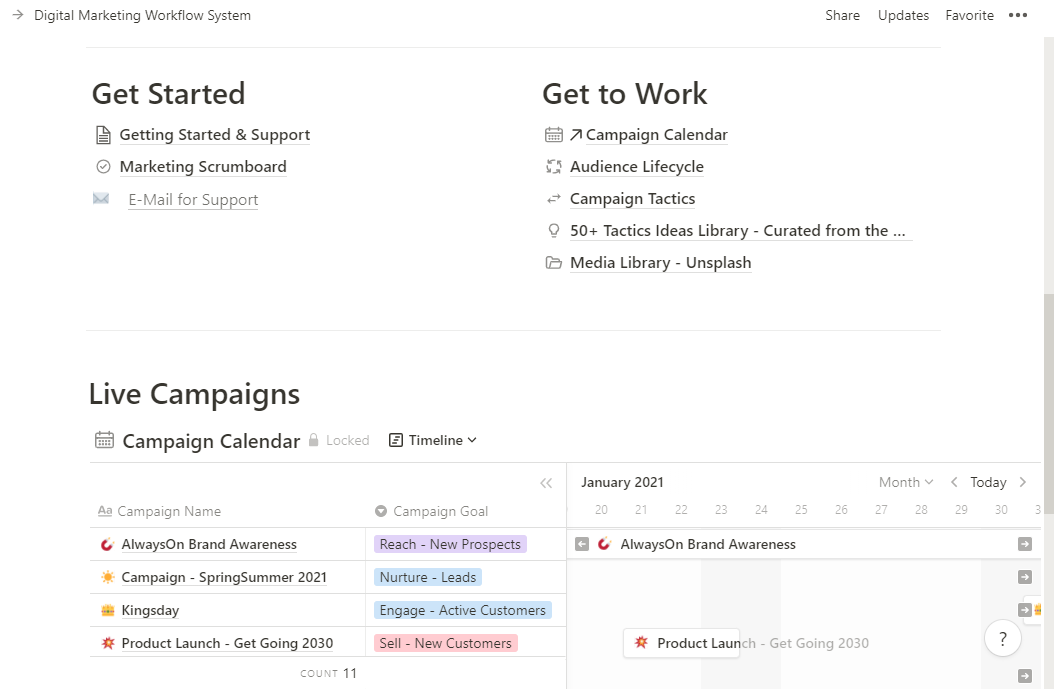 ---
Even though Notion started as a note-taking app, feature advancement over the years has enabled it to replace paid software frequently used in offices. As startups and growing enterprises continue to explore innovative ways in which Notion is redefining their processes, we will watch many out-of-the box Notion templates emerge and establish peculiar use cases.
Have you built any such template, system or dashboard? You could share them for free or sell them to the community at Prototion. Sign up for free and get started today!