Top Notion Templates For Travelers 🚀
We all are travelers inside 🧳! Be it solo road trips or going on a vacation with your family 👨‍👩‍👧‍👦! Traveling is fun for some and peaceful for other! Some are in for the journey while others seek the satisfaction of reaching the destination 🌤!
It can be an enriching experience, but planning and organizing your trips 🛸 can be a daunting task. Fortunately, Notion provides a solution 💡 with its wide range of templates that cater to the needs of travelers. So, today I am going to tell you about some notion templates that will help you organize your itinerary, plan your budget, and keep track of your travel memories. Here below are some must-have Notion templates to satisfy your inner traveler & travel stress free !👇
1. Ultimate Bucket List 🥅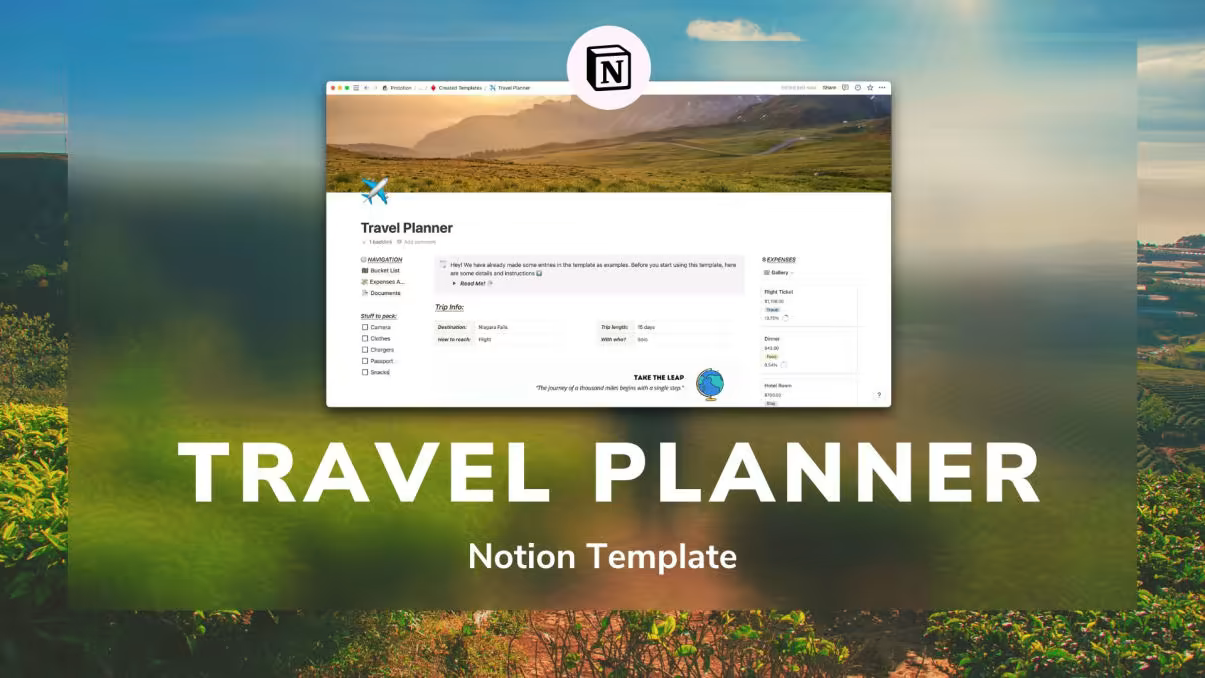 Do you love to travel? ✈️ Awesome! With this Travel Planner notion template you will never need to be afraid of planning your trips anymore. It's so easy to use, even beginners can set it up with ease. With this stay prepared ✅ for uncertainties, set & follow a budget, 💸 plan your hotel stays in advance, keep tabs on notable places to visit, and basically manage your time & money efficiently.
This notion template consists of different sections like:-->
☑️ Itinerary
☑️ Expenses
☑️ Documents
☑️ Bucket list
Free notion covers pack inside.
Get this template here.
2. Travel Planner 🧮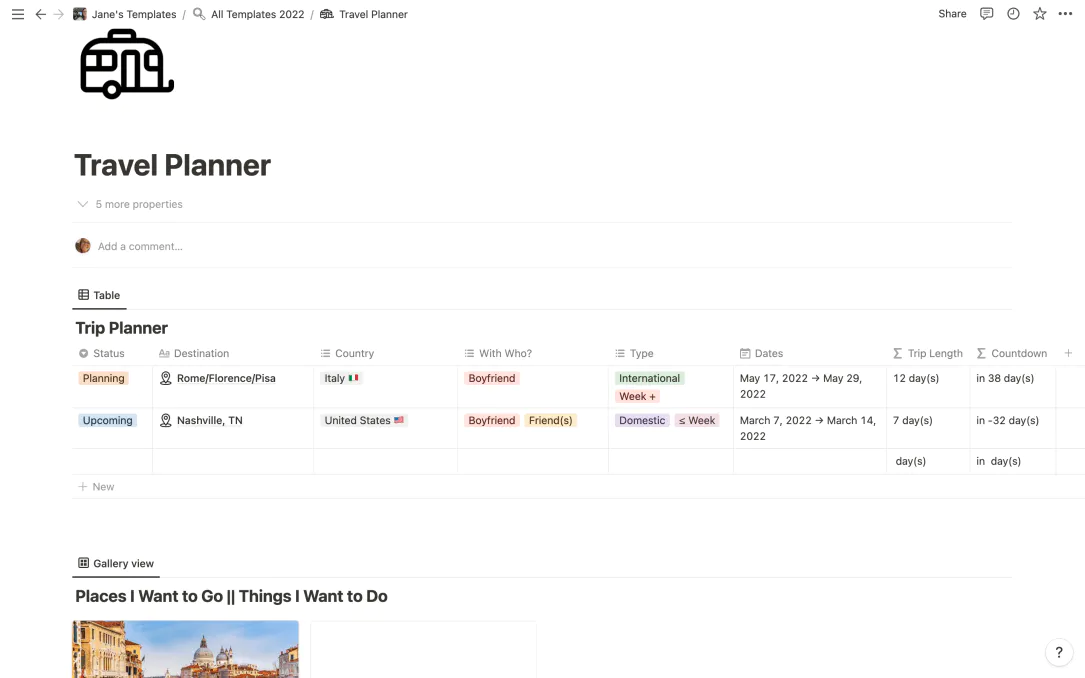 So you want to go to your dream vacation location 📍? Don't know where to start? Make a perfect plan with this Notion template and be prepared for everything! Keep track of places to visit once you reach the location! Track top rated restaurants and places to stay! 🗺
Travel planner template consists the following sections:-->
⚡️Itineraries database
⚡️ Things to do database
⚡️ Places to stay, flights, & budget databases.
⚡️ Packing list  
⚡️ A places I want to go database.
Get template here.
3. Packing List ✅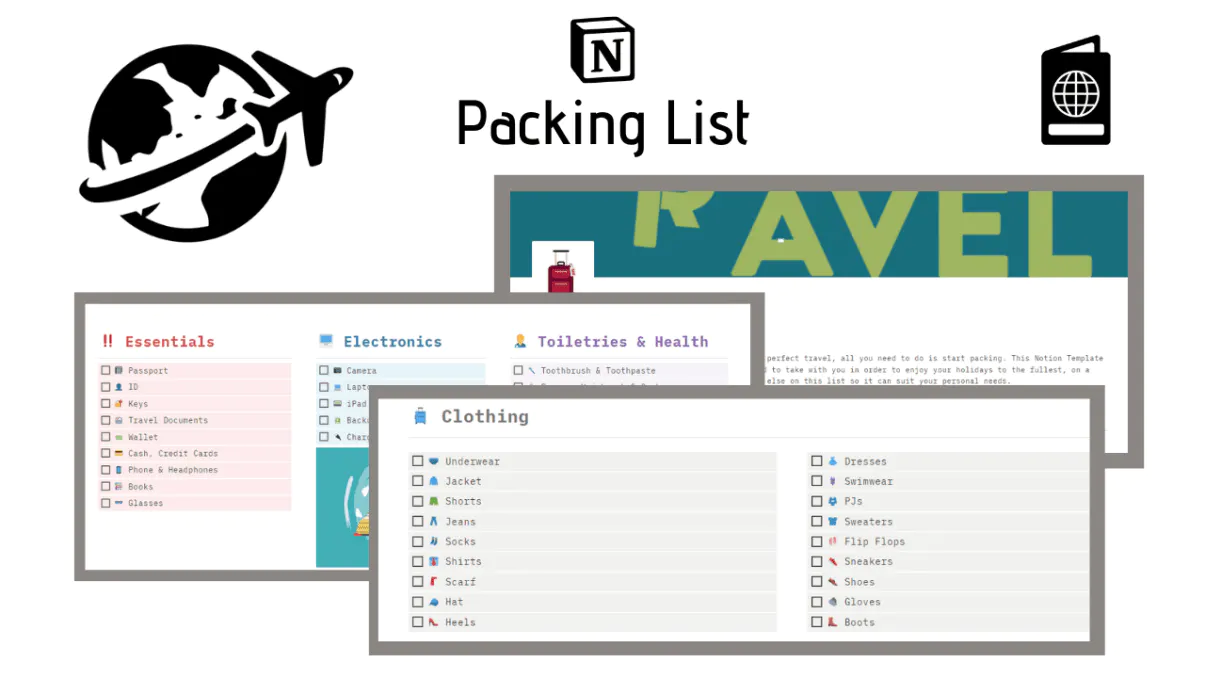 From your Toothbrush to your clothes 👚 and from your sunglasses to your phone charger 🔋! Packing up 🧳 all the important things is a necessary step for a good trip! Use this Notion template to remember all the things that you will need to pack before you step out of the house 🏡 so you don't have to look for your socks later! 👀
Features of Packing list template:-->
✨ Aesthetic packing lists.
✨ Better organization when planning for a travel.
Get template here.
4. Café Review Minimalistic ☕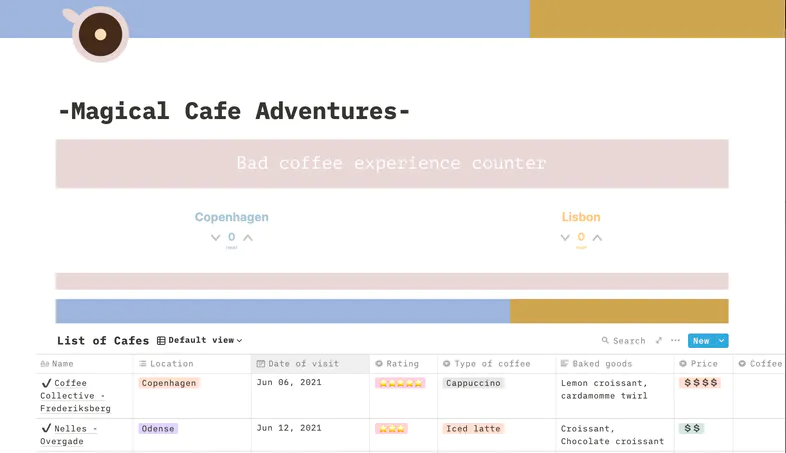 Rate coffee shops and cafes wherever you go ☕! So when you decide to go there again, you know where to find the best! 😍
This template will help you remember the tastiest 😋 and the worst 🤢 coffee/drinks that you might experience while traveling! Just for yourself or for telling others where to go and where not to go! ✅ This template includes 2 special sections:-
➡️ Place-wise counter: A cafe counter for keeping track of the cafes you visited during your world visit.
➡️ Cafe Gallery: Organize your Notion Template with personal images of your cafe visits to re-live that experience!
Get template here.
---
Conclusion
These Notion templates offer an all-in-one solution for travelers 🚶‍♀️ looking to plan and organize their trips. From travel planners to packing lists 📝 and city guides, these templates provide a comprehensive set of tools that help make traveling more manageable and enjoyable 🤩.
With notion templates you can not only manage your travels but can easily develop a better & productive lifestyle. Click here to get a template for yourself & grow.
Read more Notion articles like these that you may find helpful!  📝 and you can even follow us on @twitter for daily notion updates