6 Finance related templates you need right now 💶
In this economically growing era 📈, a person or company without proper management of their funds is like an ocean without water. Managing money 💰 & tracking investments is one of the most pivotal things in order to attain financial stability and freedom.
When you enrich your finances, you will have a better perspective of where and how you are spending your money but it's quite hard to manage & track finance in this sophisticated & busy world. But the introduction of notion templates  📜 has proven a boon for this purpose, making managing & tracking finance, and investment a cakewalk. So here is a list of 6 Notion templates to help you manage your finance.
1. FINANCE TRACKER 💸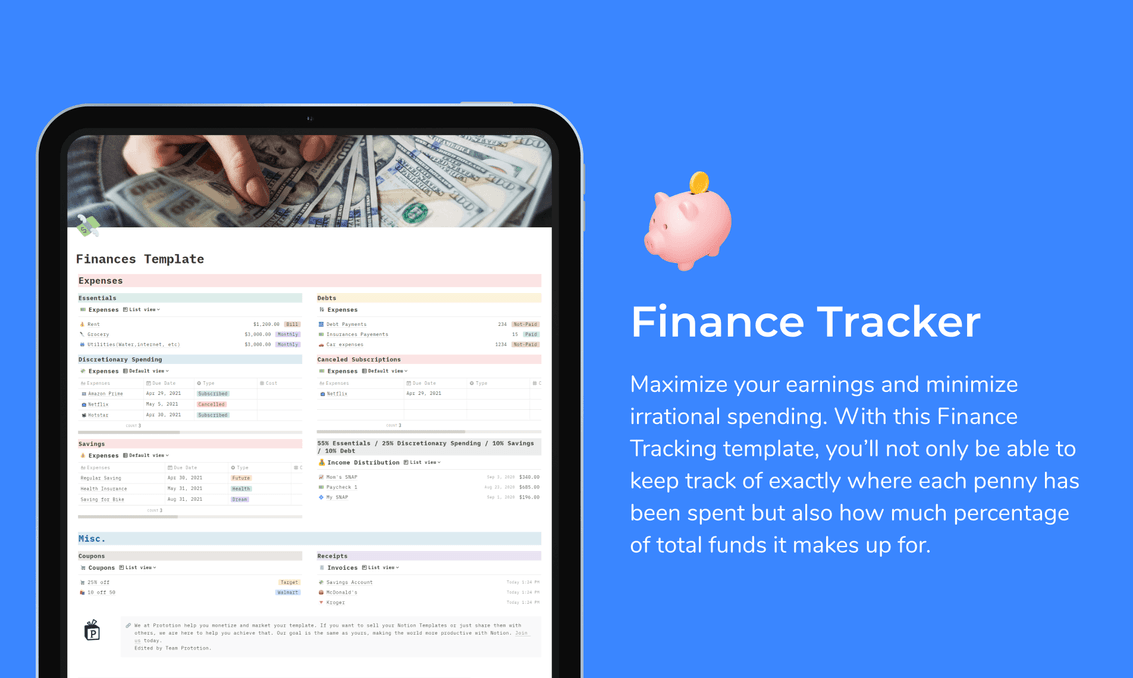 The Finance tracker notion template helps you keep track of where you are spending your money by keeping an eye on how much percentage of total funds it makes up.
What's inside this template?
🛍 Expenses: A section containing 4 different sections- Debts, Essentials, Discretionary spending, &Canceled subscriptions.
🧩 Income distribution: Effectively manages and cuts down or reallocates funds where priority is the greatest.
🎫 Coupons: keep track of your coupons in a separate column so that you don't forget about them and use them in your next payment and save some money.
📄 Receipts: A section to manage and keep track of all your invoices which will later help you during your tax return.
2. BALANCE YOUR PORTFOLIO ⚖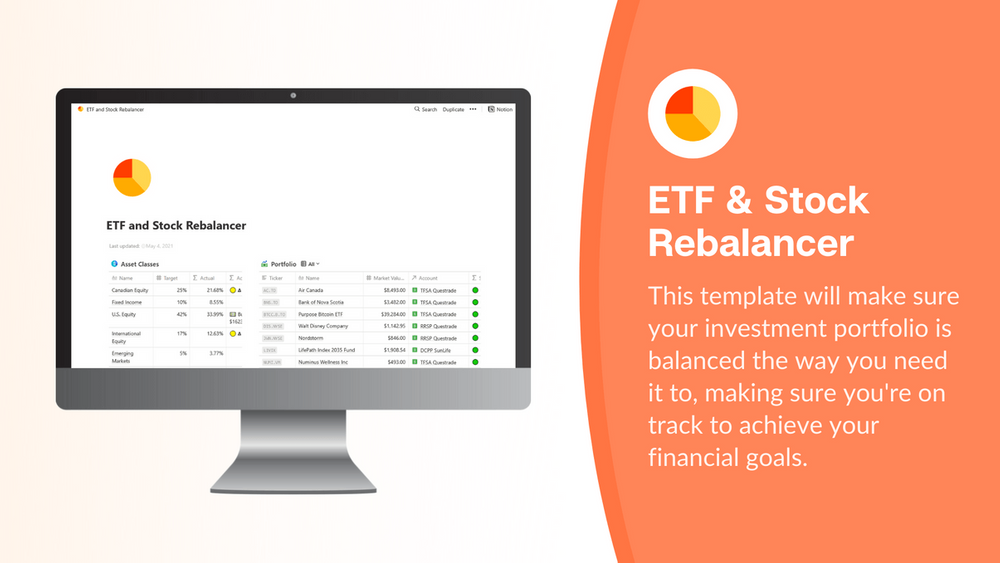 Balance Your Portfolio notion template helps you track your investments and drive higher profit 📈 ! This notion template is a boon for people who loves to invest in different kind of stock exchanges 💱 as this template will make sure your investment portfolio is balanced the way you need it to, making sure you're on track to achieve your financial goals.
Key features of this template:-
a) keep an account of all the investments in one place by assigning different portfolios.
b) This template will make sure your investment portfolio is balanced ⚖ the way you need it to, making sure you're on track to achieve your financial goal. The perfect portfolio manager and a bestseller for freelancers who want to manage their finance, stocks, shares, and more.
c) This template is an ETF & Stock rebalancer.
3️. FINANCE AND BUDGETING TEMPLATE 📊
A Notion template to track finance, manage recurring payments, create wish lists  📃 & more. This template also helps in creating weekly, and monthly budgets or you can even keep a track of day-to-day expenses. Manage all your miscellaneous spending and savings while paying all of your regular subscription fees.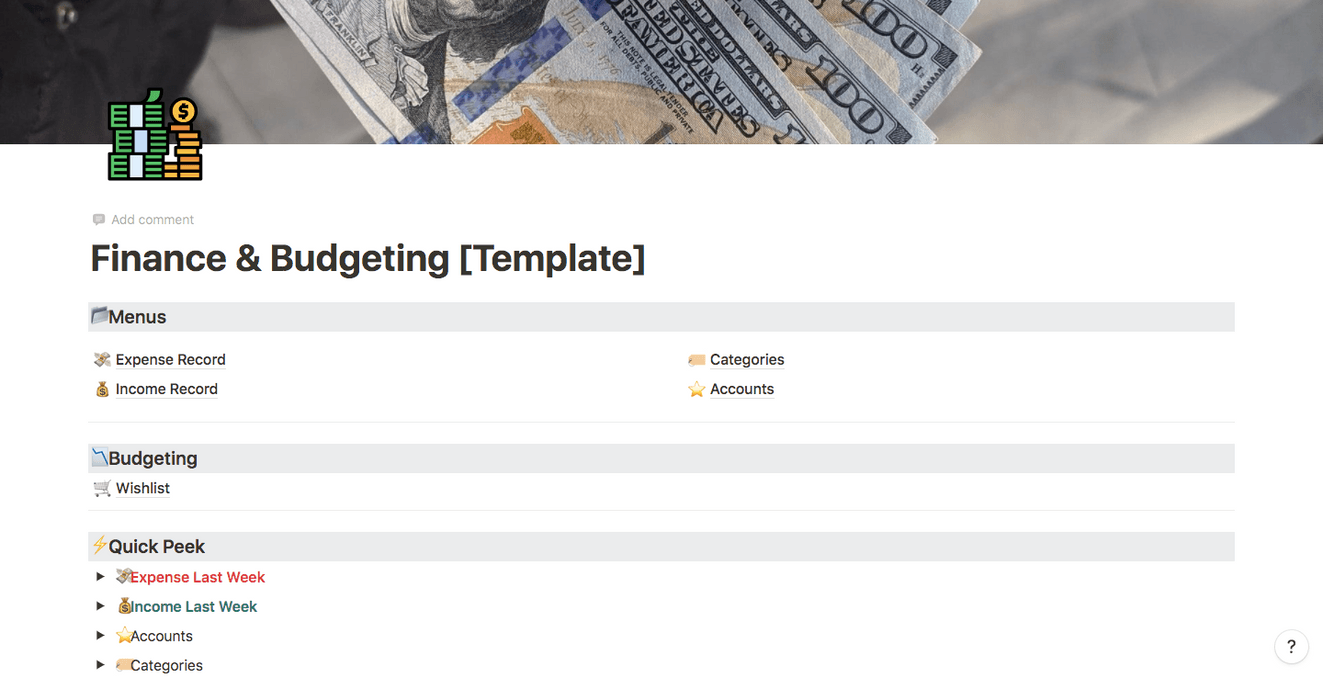 Who is Benefited the most?
a) People doing part-time jobs.
b) Students who are working and studying simultaneously.
c) Hourly employees.
4️. ULTIMATE FINANCE TRACKER 💰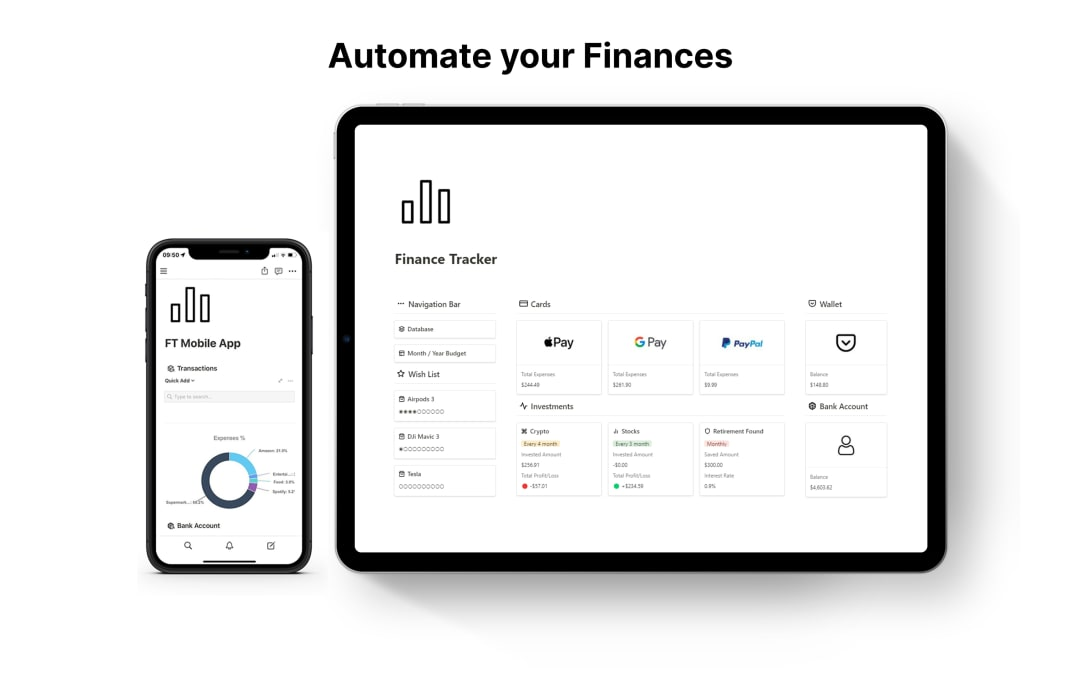 Automate the management of your finances at 360 ° with this Ultimate finance tracker notion dashboard. Comes with Investments, Cards, Bank Accounts, Monthly/Yearly balances & more.

Organize your finance at 360 °🟠 :-
This template allows you to add a transaction and automatically calculate the new balance in your bank account section. You just need to add a transaction, select the payment/ income method, and your bank account balance will be updated automatically.
Similarly, you can also track your savings for the wish list of products you wanna buy or track your investments, this template is also beneficial to business professionals.
5️. BEST RECURRING SUBSCRIPTION TRACKER AND MANAGER FOR NOTION 📺
Track subscriptions, when they're due, & cost breakdowns daily, weekly, monthly, and yearly. Now never forget due dates 📅 again with this Subscription tracker & manager.
This template has some great features:-
a) This template is useful for those who love to watch subscription-based streaming movies or TV serials 📺 and also want to save money.
b) Track all of your subscriptions to know how much you're spending on your subscriptions each day, week, month, and year!
c) Don't waste time ⌚ creating your own subscription tracking system or using Google Sheets.
6️. NOTION INVOICE TEMPLATE FOR YOUR BRAND 📄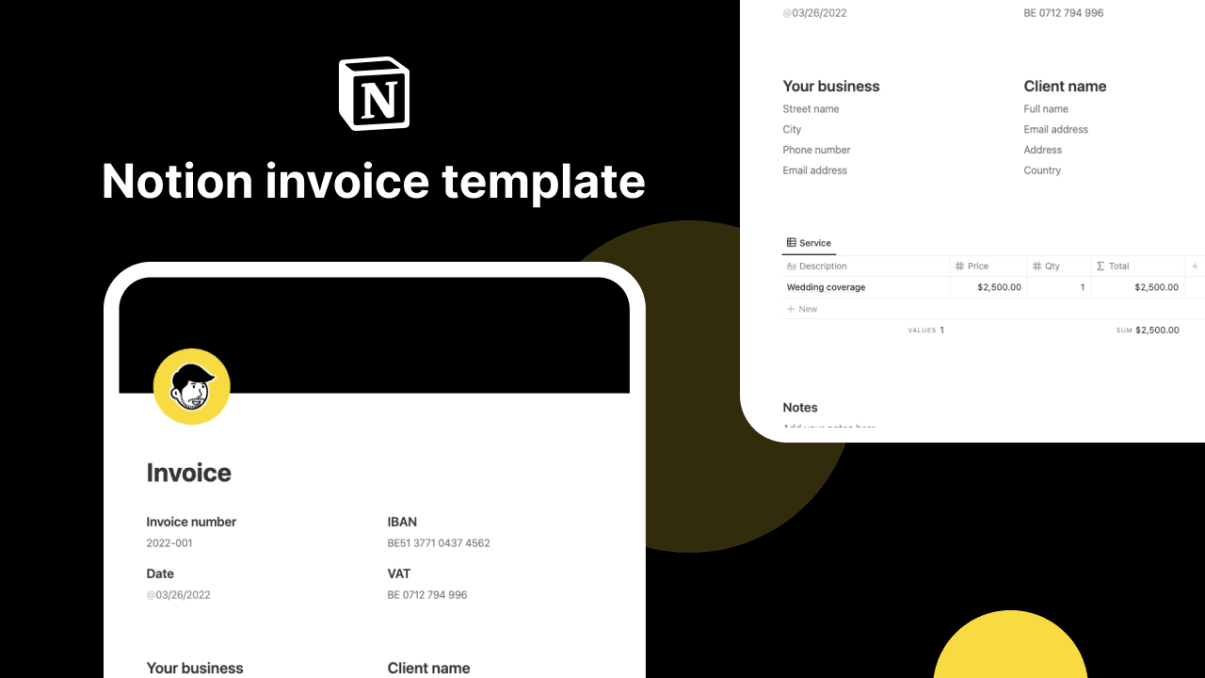 Quickly generate invoices for your business with this invoice notion template. Adapt the icon and the cover image to fits your branding. This would also be useful for freelancers and other businesses as it offers:- Quick invoice creation,  easy to customize to fits your branding; and pick invoice date using the Notion calendar function 📆 .

Benefits of this template:-– Quick invoice creation
- Easy to customize to fits your branding
- Pick invoice date using the notion calendar function
---
Conclusion
Notion templates have proven a boon in the world of finances ✨, by assisting you in the proper management of funds, stocks, & investments 💸 by applying different methods. Don't miss out and start managing & tracking your money to accomplish your financial goals. Prototion has another wide variety of templates for you to choose from- be it habit trackers or content creation ones. It covers every aspect of your needs through its templates.