Top 5 Notion templates for your workout 🏋️‍♂️🧘‍♀️
Because people need a little motivation and organization for their best workout routine 🏋️‍♂👥.
Notion started as a productivity tool 🛠 but now it has grown to a whole new level. Now with notion, you can easily & effectively manage your workouts 🏃‍♀️. Notion helps you to keep a note of which muscle to train; when to train & how to train.
In this article, we've listed five of the best Workout Notion templates 🏋️‍♂️. Our selection includes customizable templates to fit your needs, assist you in some of the diverse aspects of working out, and help you make the most out of your experience 🎡.
1. Daily Workout Planner In Notion 🏋️‍♂️
During the Pandemic, many of you might have struggled with tracking & analyzing your workouts. But ever you think why you struggled? It was because of bad planning of your workouts. No worries now with this daily workout planner, containing a smart gym and workout diary, that helps you to keep track of exercises, your workout progress, and the exercises for different muscle groups; you can be well planned for your everyday workout routine.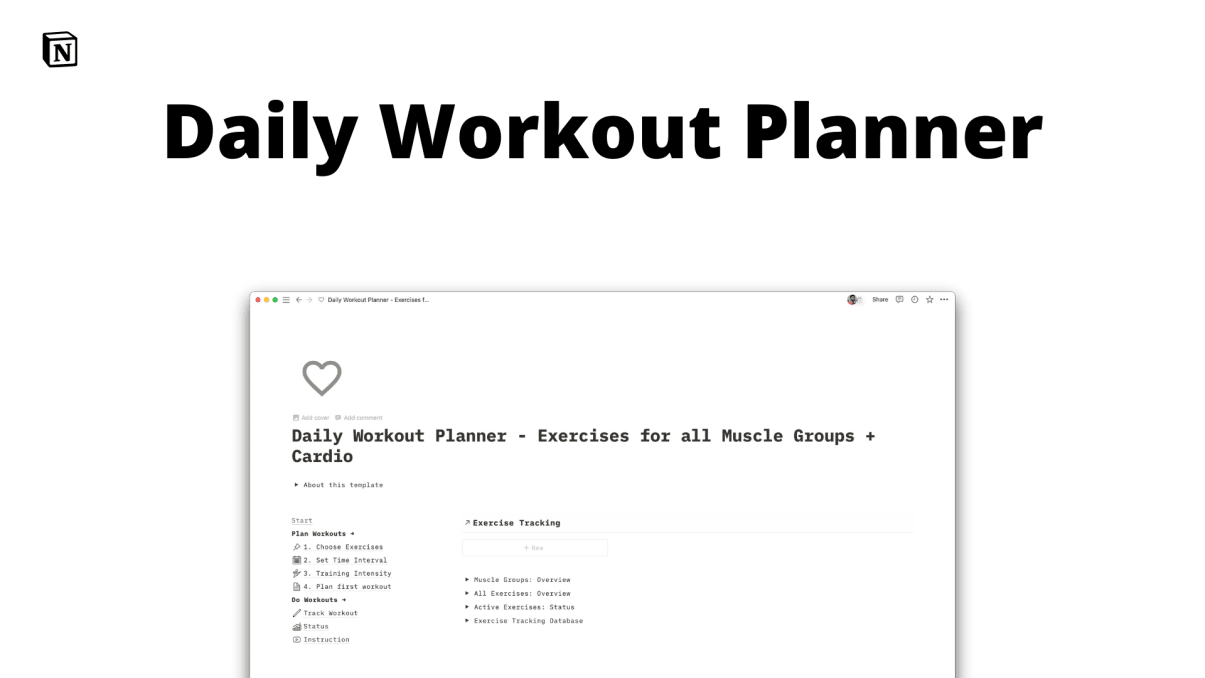 What is inside✅?
Overview Muscle Groups
32 Exercises + Description
Workout Tracker
Red / Green Light Feedback

Get Daily workout planner here.
2. Beast mode Workout OS 💪
Are you tired of paying a subscription fee for a sports application or being annoyed by ads when you use a free application for working out? Beast mode is for you. This notion template provides you with the best in strength and body training in a simple and easy-to-use template, on a computer or smartphone. With this notion template, you can 🗓 Maximize your earnings, ✍️ Log your performance, 📈 Plan your success.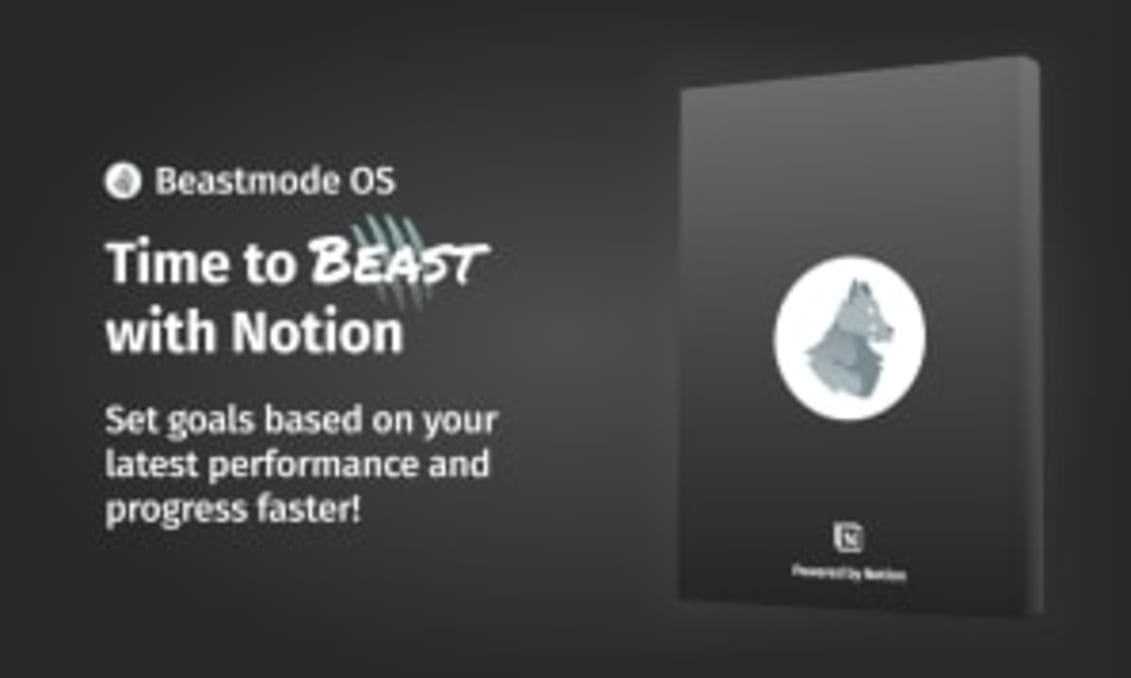 Why it's better than applications📌?
No recurring payment
No ads
Easy to modify
Get Beastmode OS here.
3. Simple Notion Workout Tracker
Simple Workout Tracker Dashboard in Notion with Prebuilt Muscle Group Pages & Workout Session Template Buttons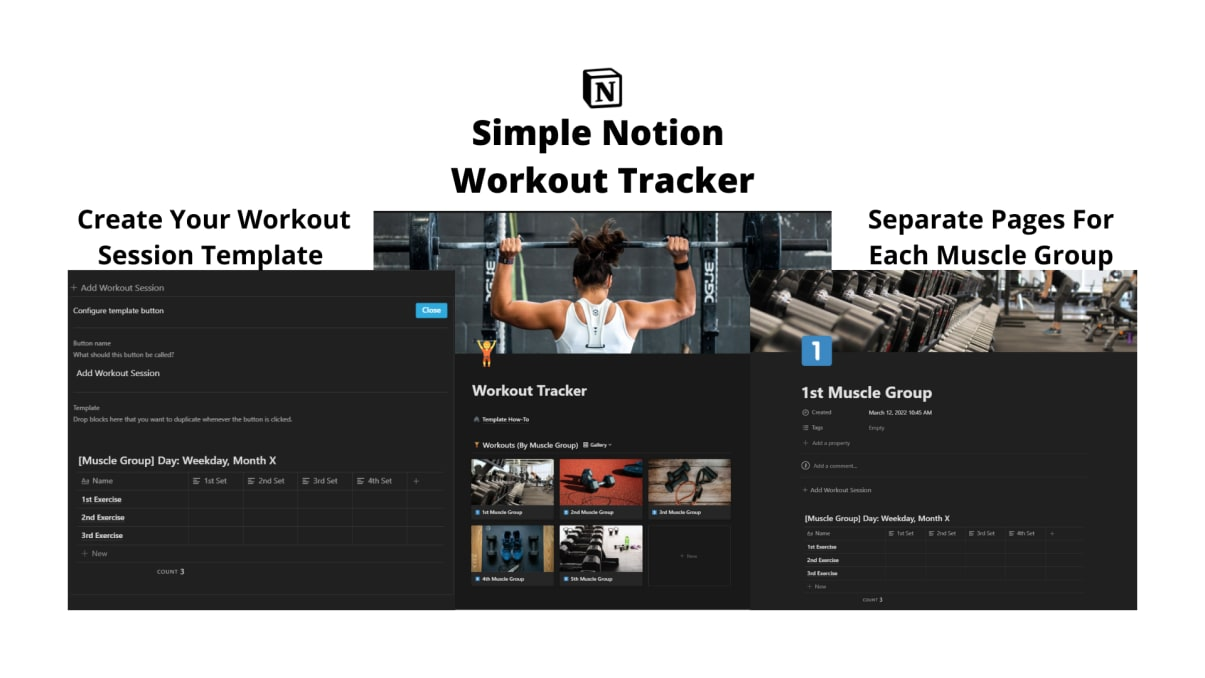 Benefits of this template💡:
Pre-built muscle groups and their workout session template buttons.
Once you've set your pages and their template buttons, you're ready top track your workouts in real-time.
Get Simple Notion Workout Tracker here.
4. Yoga Planner Dashboard 🧘‍♀️
Are you a yoga teacher 👩‍🏫 or new to yoga? If YES, then you should definitely have a look at this notion template. This will help you be consistence in your practice and for teachers, it will act as the superlative class manager. The Yoga planner dashboard consists of quick journals on the side, just drag & drop them into archives at the end of each month. You have pages to keep track of resources, learnings & classes.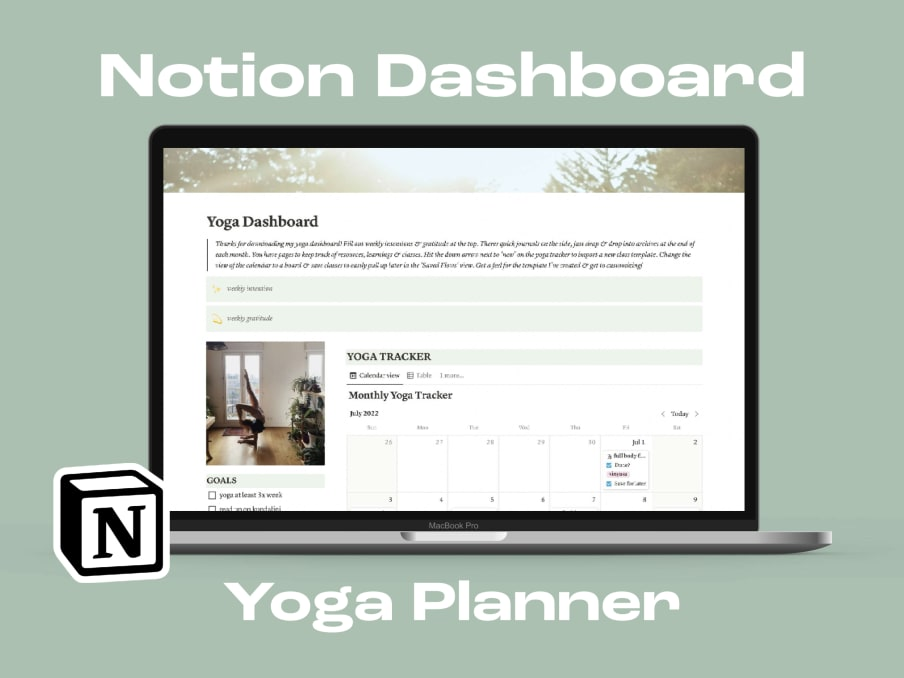 Benefits💯:
Keep track of not only your yoga practice, but also classes, resources to bring to class, music, monthly overviews, and templates to help you stay consistent.
Get Yoga Planner Dashboard here.
5. Climbing Training Tracker 🧗‍♂️
Climbers can use this notion template to track and plan all of their training. This Dashboard helps you record a summary of your work & keep track of your projects and your training plans. Both beginners and advanced-level climbers 🏔 had a customizable tool to record their sessions.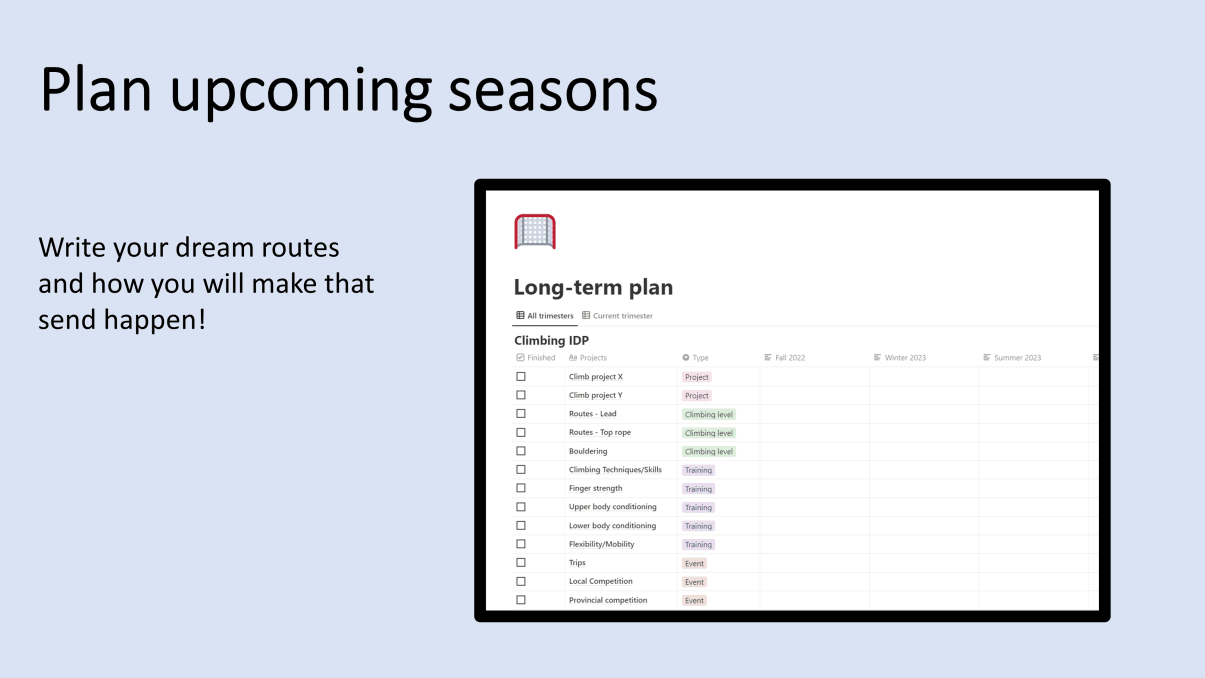 Stay ahead in planning with this dashboard.
Get Climbing Training tracker here.
---
Conclusion
You can also help people remain fit 🤸‍♀️ and organize by making your own notion templates 📜 and selling them on Prototion. Check out the collection of our health-related templates, Click here. We have a wide range of notion templates, have a look & select a category or tag that suits your need. ⚡ Check here.
Thankyou for reading this article. Hope you liked it 💯 Read more about notion on Prototion Blogs 📖